Oxford University 48-10 Cambridge University
They say the sun always shines on rugby league, and such was the case on 3rd March as the morning rainclouds cleared just as the spectators rolled off the buses from Oxford to come watch the Rugby League Varsity Match, hosted at the Honourable Artillery Company grounds in the heart of the City of London. Oxford were the clear favourites, going into the game on the back of a strong season for the Blues with only four defeats across all competitions. Additionally, there was a clear psychological edge knowing that the last seven Varsity Matches had been won by the Dark Blues.
Soon after kick off, captain Jordan Ayling (Magdalen) led from the front and sliced through the Cambridge defensive line to score under the posts within the first five minutes. His range of passing and ability to really attack the line from half back would trouble the Tabs for the entire game and would prove difficult to stop. Soon afterwards, it looked as if the Dark Blues would run away with it again as some good shift after fifth tackle allowed Matt Brady to cross in the corner, a Varsity try to cap off a great season for the flying winger.
Credit must be given to Cambridge as they then rallied and started to grow into the game, scoring in the corner at the other end and giving them only their second try in the last six fixtures and then putting up a fight in the middle of the park where the 800-strong crowd kitted out with varsity songbooks loved the shots flying in from both sides. Eventually the Oxford class began to show and tries from Ayling again and Joe Cullen out wide gave them a 24-4 lead at half-time.
After a scrappy start to the second half, further scores from Ayling to secure his hat-trick as well as Williets, Woyton and Taverner led to a final convincing scoreline of 48-10 to the boys in Dark Blue with the skipper converting all the tries. The Varsity win was a real testament to the work the boys have put in week-in week-out to prepare for BUCS games and also to the strength in depth of the squad, as there were many second team players in the Mighty Maroons pushing for those varsity spots. It was also an excellent finale to what will be known as the Dan Garbutt era for OURLFC, as the inspirational head coach is stepping down after 13 very successful years with the club. Despite changes in coaching for next year, based on the performances by players at this year's Varsity the future looks bright for the club.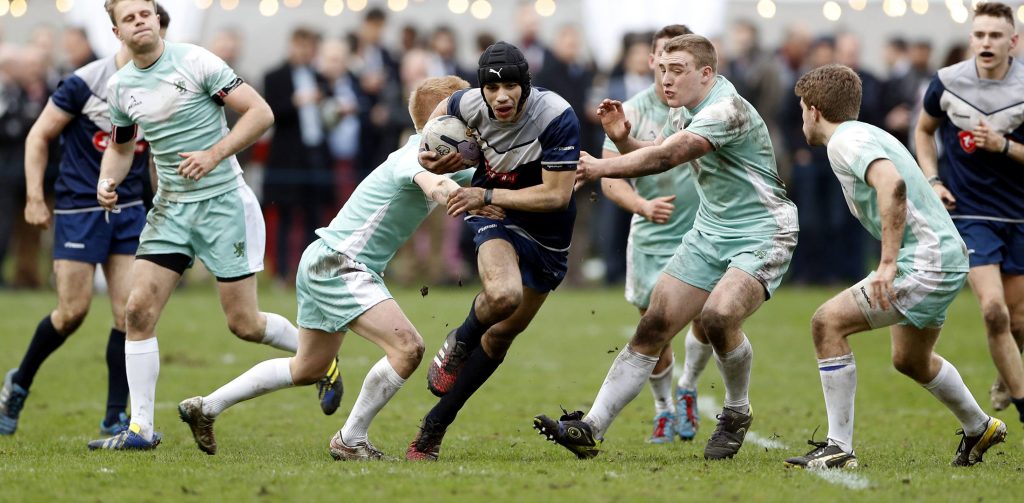 Oxford: Conor Williets; Matt Brady, Harry Sturgess, William Taverner, Joseph Cullen; Mark Roper, Jordan Ayling(c); Sven Kerneis, Zachary Keane, Joseph Mash, Marco Hiscox , Daniel Smith, Jake Langmead-Jones Interchange: Nick Dodds
Reilly Knight, Michal Woyton, William Henshall, Robert Bartlett, Angus McCance,
Scorers
Tries: Ayling (3), Brady, Cullen, Williets, Woyton, Taverner Goals: Ayling (8)
Cambridge: Craig Winfield; Ryan McDonnell, Miles Huppatz (c), Sam Parker, Sandy McCleery; Jack Fernon Thomas Davidson; Ned Bransden, Sam Henry-Pressling, Hamish Oliphant, Henry Biddlecombe, Callum Slatter, Jack Bowskill Interchange: Andy Camsell, Hilary Foord, Tom Wilson, Owen Male, Elliot Pulver
Scorers
Tries: Parker, Winfield Goal: Fernon
Referee: Matt Rossleigh
Att:706